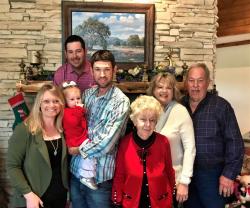 Two words define Creative Castles - integrity and stability. Surrey and his wife Susan have been married for 41 years, and work together to make a perfect team. All of their individual strengths work together and come into play not only in their marriage, but in their business as well, creating a well-balanced, smooth running work environment. Along with running a business together, Surrey and Susan have two boys, Landon and Lance.

Surrey Ewing
Surrey Ewing is the President and Owner of Creative Castles, Inc. He earned his Bachelor of Science degree from Northwestern State University in Louisiana and has more than 40 years of experience in residential and commercial construction. Surrey gained his knowledge in building by working with two prominent homebuilders in the Houston area before starting his own business.

His proven record of performance and his impeccable reputation for building quality custom homes is exemplified by the distinctive homes he has built in the most prestigious locations in the Houston and Montgomery areas. Most of the company's business comes from referrals of current customers to others- a reflection of the satisfaction and trust of our homeowners and the community.

Susan Ewing
Susan received her Bachelor of Science Degree in Accounting and Business from Northwestern State University in Louisiana. Her work experience prior to Creative Castles she was a Financial Accounting Manager with a Geophysical-Seismic Company in Houston, and later, worked for a Project Management Company in Oil and Gas as Administrative Manager. Susan has also worked with a team of CPA's in Houston preparing taxes and financial statements for large corporations.

Susan is also Owner, Vice-President and Secretary of Creative Castles, Inc. and works alongside her husband. Her responsibilities include the role of Office Manager, all of the aspects of the internal operations of the company, accounting & marketing for the company, customer service, and the company web site, just to name a few.
WHAT MAKES A GREAT BUILDER?
Creative Castles, Inc. takes an uncompromising stand on three important aspects of home building.
Integrity and Service
Integrity and service is a key element in helping our clients through the building process. We spend countless hours, at no cost, with our clients before a contract is written. Our initial meeting with the client is at the proposed home site in order to make sure that their new home will capture all of the possible scenic views, (ie, golf view, lake view or greenbelt). Surrey's knowledge and patience alleviates stress and makes the building process a pleasant and enjoyable experience. Surrey personally supervises and manages all phases of the construction of each home and he meets with his clients weekly to make sure that they are completely satisfied with the progress of their home. Our successful business is due to excellent customer service skills and our honest approach with clients, which helps them stay informed throughout the building process.

Flexibility
At Creative Castles, we encourage an open line of communication with our clients, always listening to their concerns and encouraging the free flow of ideas. Creative Castles is eager to work with the architect of your choosing and over the years we have been proud to partner up with many of Montgomery and Harris Counties' best architects and engineers. From concept to completion, we provide you with professional service and the attention to detail that you deserve. We understand unexpected changes occur, and are very responsive to those changes by supporting and implementing the new ideas.

"Our mission is to take what is unfamiliar and intimidating about home building and make it more enjoyable than our clients imagined."

Quality
A major concern for the prospective homeowner is the quality of construction. We work with your budget in mind to design, engineer, and build your dream home. We like you to be involved with every phase, from design to completion. We also want to help educate you on the building process, the sequence, energy efficiency, and cost factors as the building process goes on in order to keep you more informed with what is specifically going on with your home. Creative Castles assures their clients that they will receive the utmost quality service with the use of quality materials and excellent, reliable workmanship. Your interest in a quality built home, at an affordable price, runs parallel to our overall objective.

Creative Castles, Inc. is a member of the Texas Association of Builders (TAB), Greater Houston Builders Association (GHBA), Texas Residential Construction Commission (TRCC), and National Association of Home Builders (NAHB). Every Creative Castles home receives a 10 year structural warranty from nationally recognized Home Buyers Warranty Corporation.